Dr. Dermot O'Connor, from Ireland, has a very good qigong knowledge background and is a highly skilled practitioner with an amazingly in-depth understanding of Traditional Chinese Medicine. His work here at the hospital was very effective and impressed both patients and doctors alike. He come to China study Guigen Qigong in Nov., 2002. This is his learning process.
1. Learns to practice Guigen Qigong with our daily-practicing group. After about half an hour dynamic exercises, Dr. Dermot O'Conner (standing in black) begins his about 1.5 hours practice of standing posture (Zhanzhuang).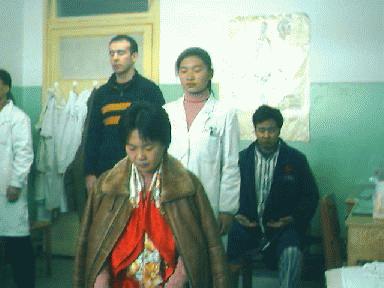 2. Guides the patients and students practicing Guigen Qigong as examination. After the guidance or leading practice, Dr. Dermot O'Conner will correct or rectify their postures and movements.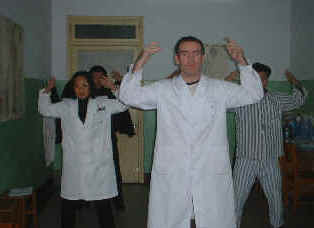 3. External Qi healing on outpatient. The patient suffers from hypertension, and the medicine controlled blood pressure is 135/90. After 20 min external Qi healing, the measure result is 125/80 mmHg. The lowering extent both SBP and DBP are 10 mmHg. Many years ago, Lowering extent of 20 even 30 mmHg was created by

Master Zhao Guang, ruled out the posture factor.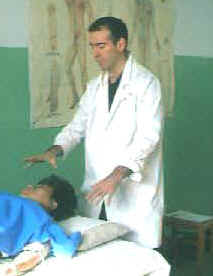 ------ By Guigen