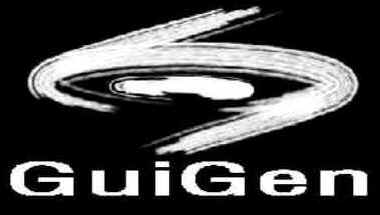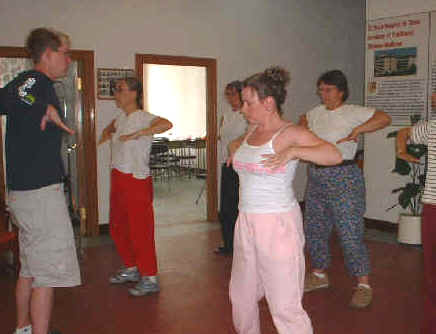 Massage therapies and physical therapies from USA learn to practice Guigen Qigong to promote their constitution and strengthen their healing Qi. The picture shows that they are practicing Liver Section, The Dynamic, Guigen Qigong.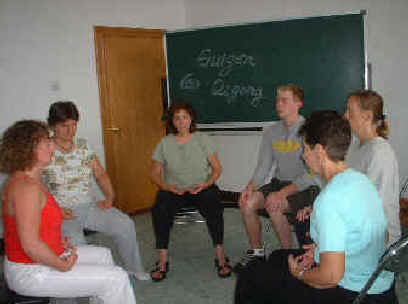 Traditional Meditation is a very important part of Guigen Qigong. During the meditation, some students of the group are very sensitive to the Qi field, and their energy levels are promoted, some are too sensitive to be in the Qi field, which is called "Yunqi" (dizziness caused by being in Qi field or receiving energy healing). How to treat Qi Dizziness Syndrome? (1) Find the causes, for example, hypoglycemia, hypotension, jet syndrome, general weakness of constitution and other more. (2) If the cause is hypoglycemia, the treatment is give some worm sugar water. hypotention, alter his or her mind focusing point. or just be a lying position, let the body be adapt to the strong, different Qi field.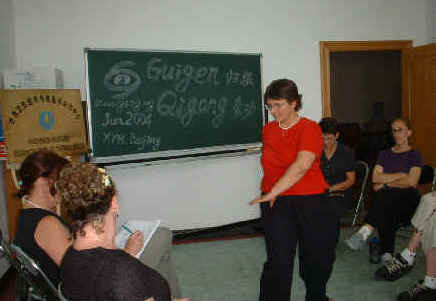 Mr. Astrid Chisholm is a good massage therapist in her hometown. This is her third time learning tour to Beijing. At the ending of Guigen Qigong Training Course International, She and others are having an Examination to Completing the Training Course. She is display the section of Global Regulation, The Dynamic, Guigen Qigong.
------ By Guigen